After you've made all the tough decisions in selecting a countertop for your project, the stone, the colour etc. choosing a countertop edge may come as a surprise to some people. While it may seem like a minor decision, the countertop edge is the surface you will come into contact with a lot so there are definitely things to take into consideration to ensure you're getting the best style and function for your project.
First, style, some edges have an inherent traditional look while others look more modern, so you'll want to select an edge that fits with your overall design plan for the space. Second, safety, if the edge of your countertop is in a high traffic area you'll want to ensure the corners don't become a hazard to children or adults rounding the corner. Finally, you'll want to consider the function of your countertop, if you plan to use the countertop often for baking and cooking then you may want to consider ease of clean up, a smooth edge will allow you to easily wipe crumbs off the countertop while an edge with more detail might make clean up more challenging.
There are many different countertop edge profiles to choose from so let's take a look at the pros and cons of each:
Straight Polish
This edge has a flat front but has 1/8″ radius on both the top and bottom to reduce chipping. It is elegant, clean, and simple. Consider this edge if you want to draw attention to other areas in your space such as the range hood or hardware. The straight edge will be less distracting and let other elements shine. It is also the most popular edge chosen by Stonex customers.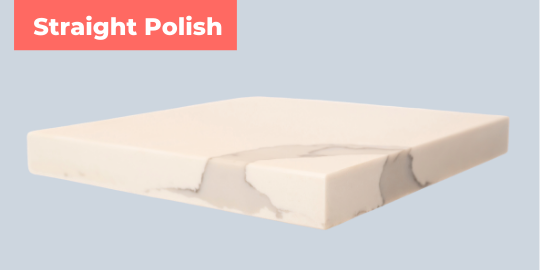 Bevel
This edge is similar to the straight edge but the top edge is cut at a 45-degree angle. It has a more formal look than the straight edge profile and provides the same function.

Bullnose
The edge of this countertop is rounded on both the top and bottom. Sometimes called a volcanic edge, the bullnose profile has a smooth soft look. From a safety perspective, this one is the least likely edge to cause injury. The rounded edge exudes a sense of calm and relaxation.

Ogee Flush
This profile has a more detailed cut. The Ogee edge is the most ornate profile selection and is often installed in more traditional spaces where you want to draw your eye to the countertop edge.

D Edge
A combination between the straight edge and bullnose with slightly rounded corners. The D edge has the elegant simplicity of a straight edge profile with the safety and calmness of the bullnose. Perfect for those busy families as it is the most durable option.

Miter Edge
This square edge profile is created with two pieces of mitered stone. It creates the appearance of a thicker, heavier countertop, similar to a butcher block, and can add a sense of lux to the space. This is a great solution if you have a short bathroom vanity and you simply want to increase the height without replacing the entire vanity.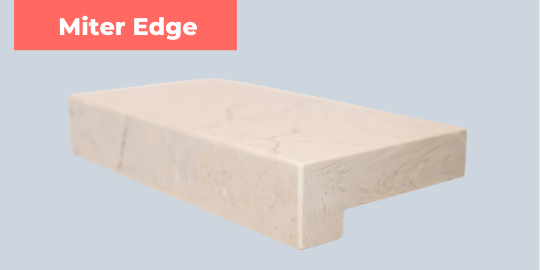 Whether straight or beveled, remember to consider the style, safety, and function of your project when selecting your countertop profile. When in doubt speak with a Stonex professional for the best edge for your countertop.